Attention New Homebuyers: 10 Tips to Save You Time and Money
Thursday, September 7, 2023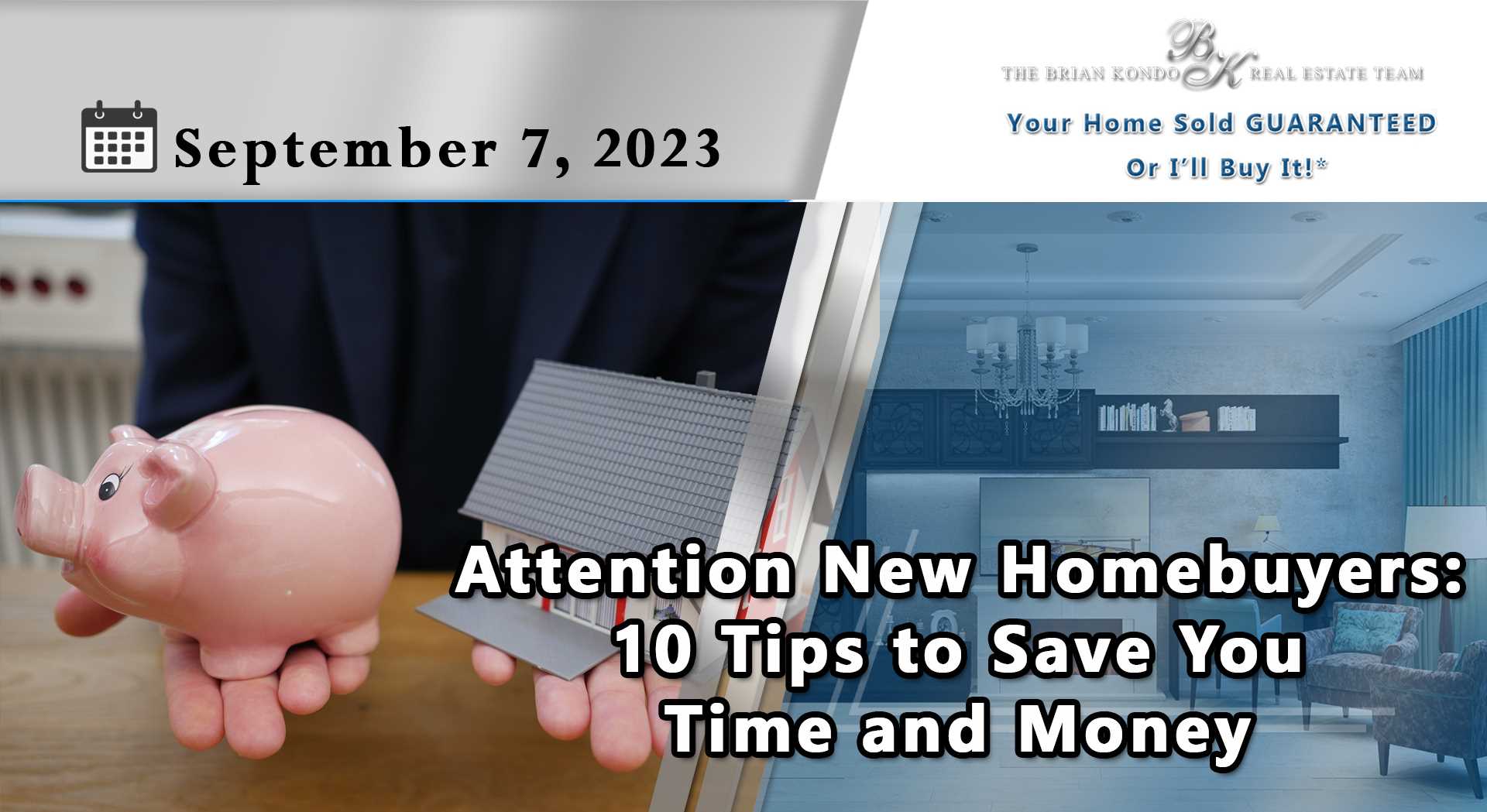 Although most homes for sale are resales, one out of four homebuyers purchases a new home. Which is better: existing or new? The right answer, of course, is up to you. Both resales and new homes offer advantages. Existing homes are less expensive on average, and are generally closer to, and enjoy the warmth and surroundings of established neighborhoods, often with mature landscaping.
New homes, on the other hand, offer innovative use of space, greater energy efficiency and choices of options and upgrades. Everything is new and modern.
Most people consider both new and existing homes before they decide to purchase. A special insider report entitled "New Homes - 10 Tips to Save You Time and Money" has just been released which identifies 10 invaluable tips to save you time and money when purchasing a brand new home. Also revealed are little-known buyer advantages that most builders may not tell you.


 
SPECIAL REPORT

The Homebuyers' Guide to
NEW HOMES
 
Read This BEFORE You Visit Your First Model Home!
 
When shopping for your home, you'll discover that most homes on the market are resales. Yet, one out of four homebuyers purchases a new home. Both new homes and resales offer advantages. Before you make a decision, let's . . .
As you can see, there are advantages to both. Most people consider both new and existing homes before they decide to purchase. Should you be thinking about buying a new house, here are 10 points to consider before you visit your first model home. 
1. Get in Touch with Your Agent. 
Before you visit your first model home, sit down with your agent and do your homework. You'll want to be prepared so that you can determine a comfortable price range for your new home.
 
Determine a Comfortable Price Range
 
If you own a home, you'll first need to know the net proceeds from its sale in order to determine how much cash you'll have to work with. Don't simply estimate this but carefully calculate every possible selling cost. If you're a first time buyer, you'll need to first qualify your income. Determine the size of your downpayment, then work out a monthly debt load so you can determine a comfortable price range. 
2. Sellers' Agents Versus Buyers' Agents. 
Here's a good point to remember. The sales agent in the model home represents the builder, not you. They are known as sellers' agents. As a buyer you can work with a buyers' agent at no additional cost. It's his/her business to best represent your needs by being knowledgeable about home construction, warranties, financing, differences in pricing, quality, even lot selection so that you get the best value for your money.
3. A Builder For All Reasons. 
Like all tradesmen, builders vary in their fields of expertise. For example there are builders who specialize in craftsmanship, others who are known for their innovative use of space, and those who offer below-market financing or customer attention during construction and after move-in. Determine your own specific needs or preferences then shop around for a builder that will best address your requirements. 
4. Get the Facts About Your Builder. 
Before making a final decision, it is wise to check out the reputation and financial strength of the builder. Get "spec sheets" on home features covering everything from floor plans to energy efficiency, including lot availability and delivery of your home.* 
5. Check Out the Neighborhood. 
• Learn as much as you can about the community.
• Discover what amenities it has to offer.
• Investigate if financial reserves have been set aside to build or replace major amenities like schools or community roads 
• Find out from local land-use officials what else is planned or could be constructed in the area, especially where vacant land is applicable. 
• Review the rules for the homeowner's association, or find out if one will be set up. 
• Think of how you will be affected by commuting routes and times.
So,  there you have the first 5 tips from the Special Report: "NEW HOMES -  10 Tips to Save Your Time and Money". If you would like to see all 10, you can order your very own copy of this Free report by visiting: www.BrianKondoTeam.com/seminar_newhomes or to hear a brief recorded message about how to order  the report, call toll-free 1-844-932-1911 enter ID # 3419.  You call anytime, 24hrs a day, 7 days a week.


Get your free special report NOW to find out the questions the others would prefer you never ask!




As a bonus, here is another part of the report in addition to the 10 Tips. The heading for this bonus section is called: "Buyer Advantages Your Builder May Not Reveal!"

 
Immediate Delivery - New Homes
 
Buyer Advantages Your Builder May Not Reveal!

Here's a fact that you may not be aware of. Some builders have newly-constructed homes available for immediate delivery. Usually these homes are ready to move into within 30 days. Even if some builders are eager to sell, they'll probably keep that knowledge to themselves.

Immediate delivery homes are often available for various reasons:

• the community, where new homes are being constructed is nearly complete, so the builder proceeds to have the on-site-contractors build "spec" homes (homes built on speculation for sale) on the last lots;
• the model home is for sale;
• the contract on a home has fallen through;
• builders include constructing homes for immediate delivery for buyers who are relocating or who have sold their previous home and need one to move into quickly.


Immediate delivery homes may be more desirable because, sometimes builders offer financing incentives or free options. This may be done in place of chopping prices to appeal to buyers purchasing later in the building phase. An immediate delivery home is an advantageous way to purchase a home if you need to move in quickly, or need a physical space to walk through and see before you sign a contract. Be sure to enquire.


"As you can see, there is a lot to be aware of before you visit your first model home."





 
Thank you for reading today's BLOG!



 


 
Homesellers - Find Out What Homes in Your Neighbourhood are Selling For!
You can receive a FREE computerized printout of ALL recent Home Sales and
Current Listings in your neighbourhood.  Visit:
www.BrianKondoTeam.com/gold_findout.


Best Buy Hotlist - You can receive a FREE list of the 10 Best Buys in your
specific price range sent to you at No COST or OBLIGATION.  Visit:
www.BrianKondoTeam.com/gc_bestbuys.

 
Your Home Sold Guaranteed or I'll Buy It!* No Gimmicks! For a Free Special Report that Details my Guaranteed Sale Program, visit: www.BriansGuaranteedSaleProgram.com.

 
Remember, your referrals change lives! We donate a portion of our income on every home sale to a great worthy cause like SickKids Hospital. To find out more visit: www.ReferForSickKids.com.


If you or anyone you know is considering making a move in the next little while, give me a call or pass on my number ... 905-683-7800 (Office) or 905-426-7484 (Direct).


Brian Kondo
Sales Representative / Team Leader
The Brian Kondo Real Estate Team
Re/Max Hallmark First Group Realty Ltd.
905-683-7800 office
905-683-6025 direct

brian@briankondo.com
www.BrianKondo.com
| | |
| --- | --- |
| Saving Money When Buying a Home  | House in Ajax   |
| Save your time and money | Ajax home for sale  |
| | |
| --- | --- |
| First-time Homebuyer | Pickering homes |
|  Buying A Home in Ajax  | Durham Region Houses |
We would like to hear from you! If you have any questions, please do not hesitate to contact us. We are always looking forward to hearing from you! We will do our best to reply to you within 24 hours !