Home Staging Tips For Fall
Monday, September 11, 2023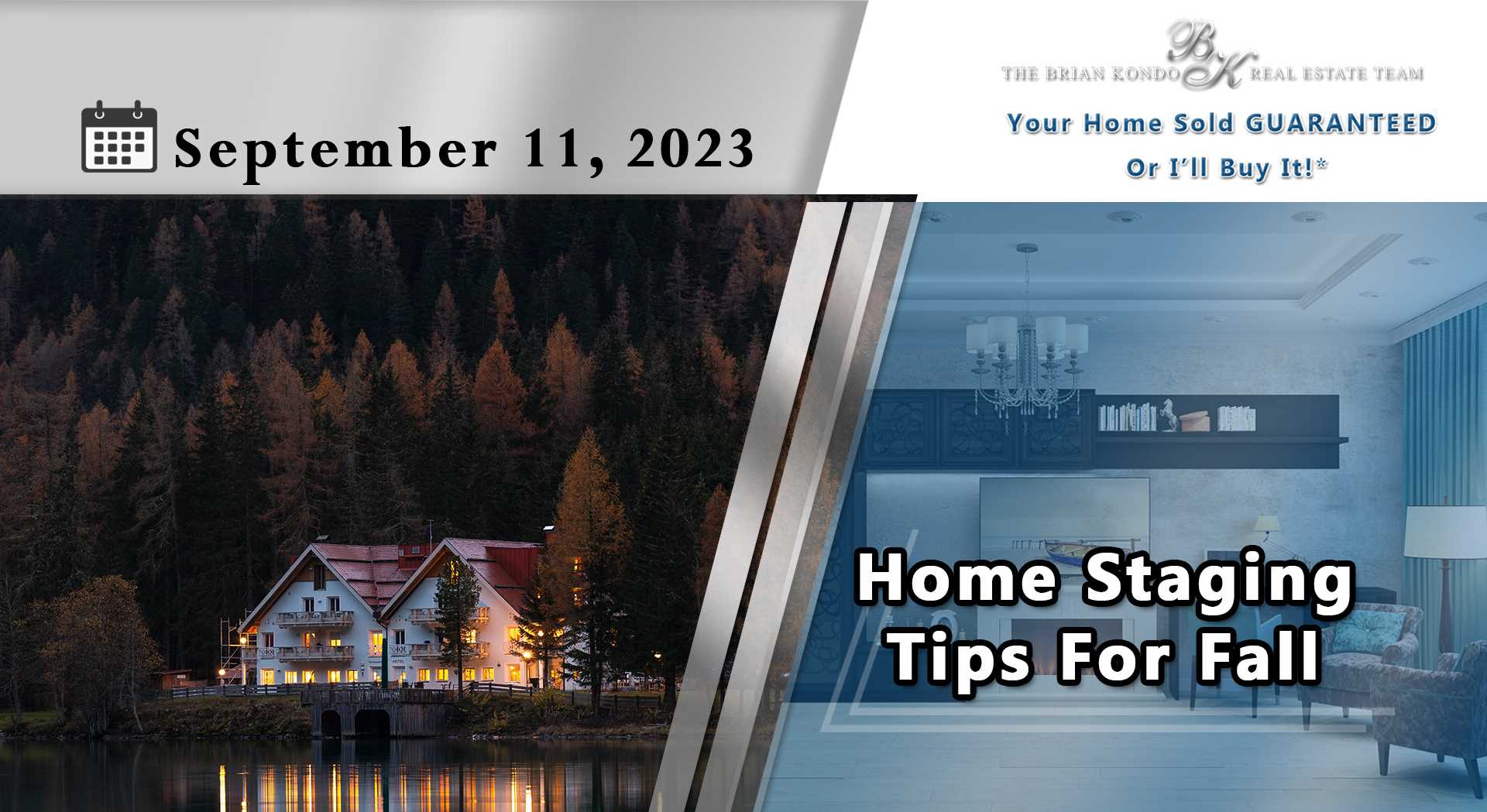 Around this time of the year everyone has some level of decoration up in their home. Maybe you're still holding onto some autumnal pieces around your home, maybe you're getting a head start on Christmas. Whatever the reason for your decor, here are some important home staging tips if you are preparing to sell your home this season.



 
Less Is More
 
It's easy to be tempted to decorate every part of your home when you've got the holiday spirit. running on high. However, when staging a home, it's important to cater to a potential buyer rather than your own preferences. A few tasteful accents will make your space feel inviting - consider displaying vases of fall foliage or bowls of seasonal fruit.



 
Warm Up Your Walls
 
Regardless of the time of year you are hoping to sell your home, you can never go wrong giving your walls a fresh coat of paint. To make your home extra inviting, opt for richer shades such as caramel or creams. These are still neutrals that will compliment any fall decor palette.



 
Let In The Light 
 
The trouble with fall is that the days get shorter much quicker. To present your home in the best light possible, you'll need lighting such as lamps and pendant lights to highlight your home's features when there isn't natural light to do it. Lamps can be both a great decor addition to your home as well as a helpful light source.



 
Emphasize Comfort
 
As the weather turns cooler, people look for cozier atmospheres. You can make your space more appealing and hygge inspired by accentuating your sofas and chairs with comfy throw pillows and plush throws.


 
Use Seasonal Scents
 
We are guided by our noses. The better a space feels, the more we want to stay in it. Tap into seasonal scents and light a cinnamon-scented candle or simmer a pot of cider on the stove with a stick of cinnamon thrown in. Alternatively, you can also use a diffuser and find a pumpkin spice essential oil. 


 
Play Up The Fireplace 
 
If your home has a fireplace, this is a fantastic opportunity to use it. Arrange your furniture around the fireplace to create a cozy focal point. The warmth of the fire (electric, gas or real) will make any home instantly appealing.


 
Add A Touch Of Luxury
 
If you want to dish out on one thing when staging your home, make it your bed. Layering sumptuous, silky fabrics will enhance the cozy feeling you created in the living spaces of your home. Remember, you don't need to pay a fortune for your home to look like it cost a fortune to decorate! Many discount stores offer affordable bedding that looks like it came straight out of a magazine. You can also display plush towels in the bathroom or drape a silk tablecloth over your dining room table.
 
We hope these home staging tips have been helpful for you! Please share with us any tips, tricks, or pictures of your space that you've staged for fall. 





 
Thank you for reading today's BLOG!



 
 
Homesellers - Find Out What Homes in Your Neighbourhood are Selling For!
You can receive a FREE computerized printout of ALL recent Home Sales and
Current Listings in your neighbourhood.  Visit:
www.BrianKondoTeam.com/gold_findout.

Best Buy Hotlist - You can receive a FREE list of the 10 Best Buys in your
specific price range sent to you at No COST or OBLIGATION.  Visit:
www.BrianKondoTeam.com/gc_bestbuys.
 
Your Home Sold Guaranteed or I'll Buy It!* No Gimmicks! For a Free Special Report that Details my Guaranteed Sale Program, visit: www.BriansGuaranteedSaleProgram.com.
Remember, your referrals change lives! We donate a portion of our income on every home sale to a great worthy cause like SickKids Hospital. To find out more visit: www.ReferForSickKids.com.

If you or anyone you know is considering making a move in the next little while, give me a call or pass on my number ... 905-683-7800 (Office) or 905-426-7484 (Direct).
| | |
| --- | --- |
| Fall Season  | Buying a house in Ajax   |
| Home staging during fall   | Ajax home for sale  |
| | |
| --- | --- |
| Home staging tips   | Pickering homes |
| House decoration during fall   | Durham Region Houses  |
We would like to hear from you! If you have any questions, please do not hesitate to contact us. We are always looking forward to hearing from you! We will do our best to reply to you within 24 hours !